PhD Program at the Department for Computer Science
Welcome!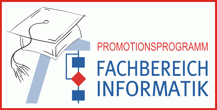 The Department of Computer Science of the University of Kaiserslautern-Landau (RPTU Kaiserslautern) is one of the leading computer science research institutions in Germany. One of our main objectives is the mentoring of excellent PhDs. We always welcome outstanding students and researchers, and we encourage them to apply. The PhD Program in Computer Science at the University of Kaiserslautern-Landau provides an ideal environment for pursuing a doctoral degree in the area of Computer Science at an internationally competitive level. We offer a full doctoral program, in which students receive focused, research-oriented training in a scientifically challenging, inspiring and motivating surrounding. Students participate in one of a variety of research groups that are directed by leading researchers in their respective area. They can thus benefit from and contribute to top-level research being conducted at the CS department.
We offer a full doctoral program in close collaboration with research groups of the Computer Science Department and a variety of research institutions:
All these institutes are located conveniently on or very close to the University campus in Kaiserslautern. The proximity of fundamental and application-oriented research creates a unique research setting that provides students with the opportunity to select from a large variety of topics.
---